Melbourne Stone Cladding Ideas
If you want a house that exudes quality and style, and can give you the comfort and protection that you need, then Damien Rush's Melbourne stone cladding services are all that you need. Stone cladding is an old practice that brings out the beauty and appeal of stone as you include it with the design of your home, office, or any living space. You can't simply get this effect from other resources like wood or metal. So for all of your stone cladding requirements, Damien Rush stonemasonry is the only name that you can rely on.
With a colossal range of stone profiles and colours, and a price range to suit all budgets, stone cladding is the perfect product for your next undertaking.  If you want to enjoy a unique house that brings you close with nature, melbourne stone cladding by Damien Rush stone masonry will help you transform your simple abode into a living space like no other. The stones and materials that will be used are unique, since no two stones are perfectly alike. By incorporating this unique feel and the ambience that only nature can give into a man-made structure like your home, we can guarantee a house-living experience like no other.
Another great thing about stone cladding in Melbourne is that you have a limitless number of looks that you can explore. Visualize the top idea that you have regarding stone cladding for your dwelling, and let Damien Rush Stone Masonry bring that idea into actuality. Many types of stones can also be used to your delight, and this assures you that the stone cladding installed won't have repetitive patterns. Every time you glance at your home, you'll always see something different; never again will you grow bored and tired of how a room, a wall, or any part of your home looks.
When it comes to innovation in stone cladding , Damien Rush Stone Masonry is the name you'll find at the top. You literally have infinite choices for the look of your dwelling or living space using stone cladding systems.
For further information on stone cladding options in Melbourne, contact Damien Rush Stone Masonry.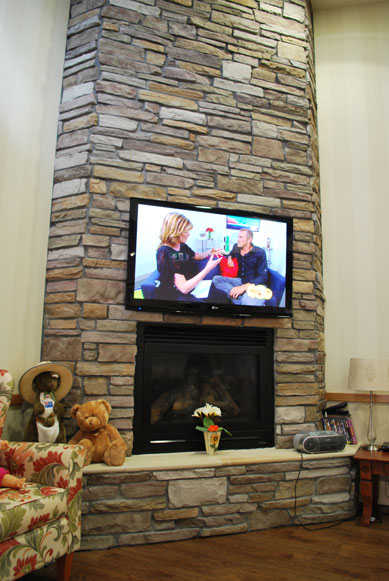 The stone used in this photo of a stone fireplace is Craft Stone Stacked Ledgestone "Merlot" (CSI-066).